Overview
The Analyze section of the Andi Skills Manager provides ways to evaluate the performance and usage of your skills. Understanding how your skills are utilized by your users is key to meeting desired outcomes.
In this Article
Skill Usage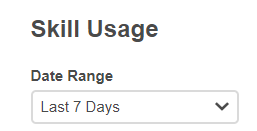 The Skill Usage section shows near real-time skill performance and usage through three metrics:
Impressions (views)
Actions (clicks)
Action Rate (clicks per view)
These metrics paint a picture of how often your skills are seen and used. Actions can be clicks on a link, downloading a file, sending an email, or any other support application action.
Using the top Date Range selector, you can adjust data for the whole page to any dates within the last 90 days.
Skill Highlights

The Skill Highlights section shows the highest and lowest skills regarding impressions and action rate. For the action rate attribution, skills with only at least one action are evaluated as some skills do not provide users with any action. This dashboard provides a quick view of skill performance within the pages' filtered date range.
Performance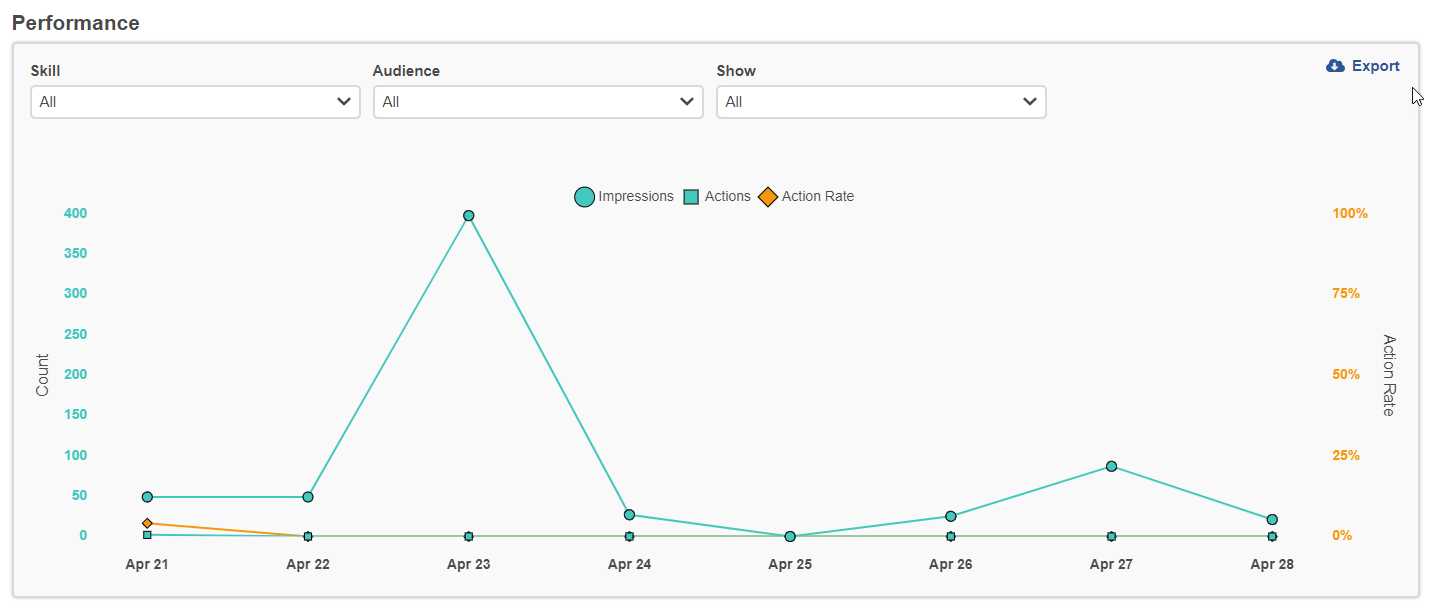 The Performance section renders the three metrics, impressions, actions, and action rate over time by day. The chart can be filtered by skill, audience, and the metrics you want to show. Hover your mouse over the chart dots to view specific numbers.
In the top right, the Export button allows you to do a raw export of the data you are looking at with the currently applied filters. This may be helpful in reporting or using the data in your own analytics' views.
All Skills

The All Skills section allows for the review of data through table sorting and aggregation. This is helpful to get an idea of how skills roll up by these metrics. You may notice several skills that you do not recognize. These skills do not have an Andi Skills Manager page and are embedded into the application. You will notice that these particular skills do not have a clickable title and the Source will show 'Application'.
Chat
The Chat Tab will be available to users who have the 'Access Chat Feed Telemetry' permission.